Teacher Susan McAllister-Bee is trained in Speech Level Singing, Bel Canto, and Estill Voice technique.
Students learn all the important elements of good singing technique including breath management, vowel production, understanding how the voice works, and knowing the differences in classical, musical theatre, and pop/rock vocal sounds.
Students learn how to exercise their voice to develop strength, flexibility, and stamina. Then we use this knowledge in songs of their choice.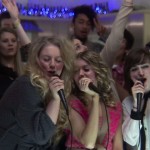 Call 519-633-7556 for more information.