The Bee Singing Program is an age-appropriate singing lesson for students 8 and older. Younger students learn to explore their voice in a fun and energetic environment .Students learn microphone and performance techniques, and have the opportunity to sing their songs in the community.
Teens learn how to harmonize, and how to vocalize regularly to maintain a healthy and balanced voice. This enables them to explore many different genres of the singing voice without the risk of developing poor technique.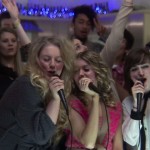 Coaching for young voices is important for two reasons:
There has been a continual decline in the opportunity for children and teens to learn to sing in a school setting.
The music and artists that young people are listening to on the radio are poor role models for developing a healthy and balanced singing voice.