45 minute interactive DVDs with large on-screen lyrics and free large print songbooks. Recorded in low keys for easy singing! Many themes to choose from!
We ship for FREE to Canada and US! See below for order details!
HUGE summer sale! See Store for Details!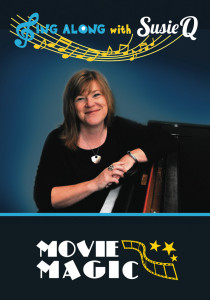 "Movie Magic" includes: For Me and My Gal, Edelweiss, By the Light of the Silvery Moon, Oh What a Beautiful Morning, Take Me Out to the Ball Game, Somewhere Over the Rainbow, Zip-A-Dee-Doo-Dah, Hi-Lili Hi-Lo, Don't Fence Me In, Moon River, Easter Parade, Singing in the Rain, Put Your Arms Around Me Honey, Somewhere My Love, Swinging On a Star, Do-Re-Mi, We'll Meet Again.
View a preview on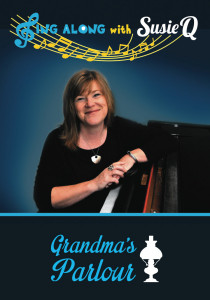 "Grandma's Parlour" includes: I'm Looking Over a Four Leaf Clover, Cruising Down the River/Moonlight Bay, If You Knew Susie/Ma, He's Making Eyes At Me, K-K-K-Katy/I Want a Girl, White Cliffs of Dover, Roll Out the Barrel, You Are My Sunshine/Bye Bye Blackbird, Irene Goodnight/It's a Long Way to Tipperary, Daisy, Shine On Harvest Moon, My Wild Irish Rose, School Days/I've Got Sixpence, Bless 'Em All/We're Gonna Hang Out The Washing/Kiss Me Goodnight Sergeant Major, We'll Meet Again.
View a preview on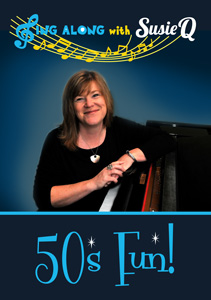 "50s Fun!" includes: Blueberry Hill, Que Sera, That's Amore, Who's Sorry Now? Have I Told You Lately That I Love You? Rock Around The Clock, Tennessee Waltz, Love Me Tender, Dream, Music, Music, Music! I Can't Help Falling In Love with You, Please Release Me, Bye Bye Love, How Much Is that Doggie in the Window? Crazy, All Shook Up and We'll Meet Again.
View a preview on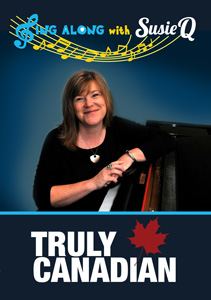 "Truly Canadian" features: The Unicorn, Could I Have This Dance, This Land Is Your Land, Four Strong Winds, Red River Valley, I've Been Everywhere, Farewell to Nova Scotia, Alouette, The Farmer's Song, Put Your Head On My Shoulder, O'Canada, When You and I Were Young Maggie, I's the B'y, Working Man, and We'll Meet Again.
"Sentimental Journey" includes:  Sugartime, Don't Sit Under The Apple Tree, It's A Long Way to Tipperary, Let Me Call You Sweetheart, Que Sera, Sera, It's A Sin To Tell A Lie, The Happy Wanderer, Moonlight Bay, When You're Smiling, My Blue Heaven, I've Got a Lovely Bunch of Coconuts, Sentimental Journey, King Of The Road, You Belong To Me, Anytime, Love Letters In The Sand, White Cliffs of Dover, We'll Meet Again.
View a preview on
"Hymns & Harmony" includes:  What A Friend We Have in Jesus, Amazing Grace, This Little Light of Mine, Jesus Loves Me, Come Though Fount of Every Blessing, He's Got The Whole World In His Hands, This Is My Father's World, I've Got the Joy In My Heart, Fairest Lord Jesus, Jesus Bids Us Shine, Blessed Assurance, I Danced In the Morning, How Great Thou Art, For the Beauty of the Earth, Praise God From Whom All Blessings Flow, and We'll Meet Again.
View a preview on
 ENJOY OUR SUMMER SALE UNTIL AUGUST 31ST
Only $39.95 $34.95 each or $189.95  $179.95  for all 6 DVDs.
That's a savings of $49.99 $59.99 with FREE S&H!
How to order:
Visit our Store! to pay via Paypal or credit card
Fax – 1 (866) 935-2111
Phone – (519) 633-7556
Email – [email protected]
Paying by cheque? No problem, let us know!
Coming this summer….Boots & Hearts and Santa's Favourites!