Music for Young Children® (MYC) is "The high note in music learning!" MYC is a carefully balanced music program with age-appropriate entry levels for children ages 4 to 8. Music for Young Children® is the only music educational program that encompasses learning to play the piano (keyboard) along with all the building blocks for ongoing success in developing music skills. MYC makes having a music lesson fun!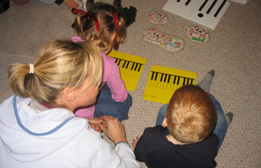 Students and their parent/guardian meet for up to an hour each week in a small group setting of up to six students. Learning music in a group has many benefits. Lessons are fun and many friendships are formed.
Classes run from mid September to late April.  Please contact the studio at 519-633-7556 or email beemusicstudios@gmail.com for information.